Posted on November 19th, 2011
Ok, I've never read this book and I have no intention of doing so… except for this page: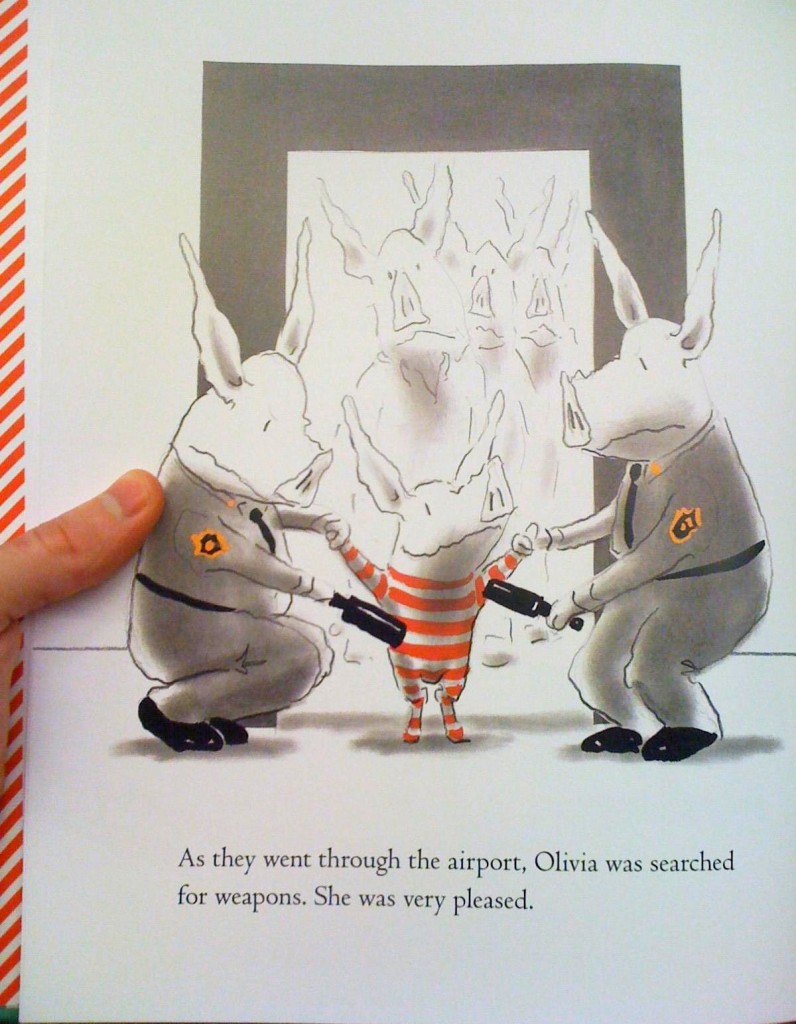 What kind of monster would put this police state indoctrination into a book for children?  I can't figure out whether this is a coping mechanism or actual propaganda, but regardless, saying it's pleasing for children to be groped by strangers is sick.  "Olivia was scared," maybe, but PLEASED? Is this what we want to teach them, that they should enjoy being groped by pigs at the airport?  I think it's time for an old fashioned book burning.
Look, metal detectors were one thing. Fine. I don't want to be on a plane if someone starts shooting or sets off a grenade.  But NOBODY is going to be able to hijack a plane with a damned box cutter. The 9/11 box cutter story is a lie.  (please see my other 9/11 posts) There is no reason to be groping children.  You realize that all this groping is because of that feeble box cutter story?  You can not hijack a plane with box cutters.  You would get your ass pummeled by a bunch of passengers and crew who would rather be cut than die.  Why would pilots allow some dudes into the cockpit with box cutters?  Why don't pilots just carry guns, and we can end all this stupidity right now?
I'll tell you why, because it has nothing to do with airline safety.  It's all about conditioning us to be slaves so we'll give up all our rights and march into the concentration camps without resisting.  So be expecting more convenient "lapses" in security, because people are getting sick of being groped and x-rayed and they know who the real terrorists are.
Leave a Reply
You must be logged in to post a comment.
---