Posted on January 18th, 2011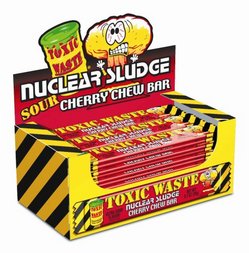 In a twist of irony, high levels of lead have been discovered in the candy bars known as "Toxic Waste Nuclear Sludge."
But even without lead, the name is still fitting:
Sugar, Liquid Glucose, Hydrogenated Palm Kernel Oil, Citric Acid, Glycerin, Maltodextrin, Gum Arabic, Artificial Flavors, Lactic Acid, Soya Lecithin, Artificial Colors (Blue 1, Blue 2, Yellow 5, and Red 40), and soy.
Artificial colors are made with aluminum and coal tar.  Coal tar could definitely be considered toxic sludge.   At least they're telling you up front.
Leave a Reply
You must be logged in to post a comment.
---