Posted on November 30th, 2010
After "they" flushed the video of Donald Rumsfeld saying "missile hit the pentagon" down a memory hole (I swear I've seen it with my own eyes… once), I started saving videos- usually FLV or Mp4 files from my browser cache.  If YouTube wants to censor videos selectively for political gain, I have a few TB/month bandwidth I can spare to xfer some important documentary videos as I'm sure quite a few other hosts do.   I think YouTube and the government should go ahead and delete his account cause they'll really be pouring gasoline on the fire.  People will use other services to distribute the videos and we won't continue supporting this intelligence agency founded/funded service.   Google News basically pushes all the latest internet propaganda from the corporate media to the top, constantly finding new ways to stifle public opinion. YouTube takes important videos down all the time under the pretext of copyright violation or the ambiguous "terms of use violation" they applied uniquely to Alex Jones' YouTube channel.  We can do better.
If you want to help distribute underground documentary videos, all you have to do is seed them on BitTorrent. Vuze is a good BitTorrent client. Use the advanced view + transport encryption.  That's something you can do easily from the comfort of your own home. Here's how:
After downloading Vuze from the link above, or other torrent client, use a torrent search engine like Torrentz.com to search for "Alex Jones" (or whatever you want).  Download the .torrent files for the movies you want to watch, open them with Vuze, and transfer the files down.  Leave the files "seeding" which means they are shared with others in the torrent network.  Click to enlarge…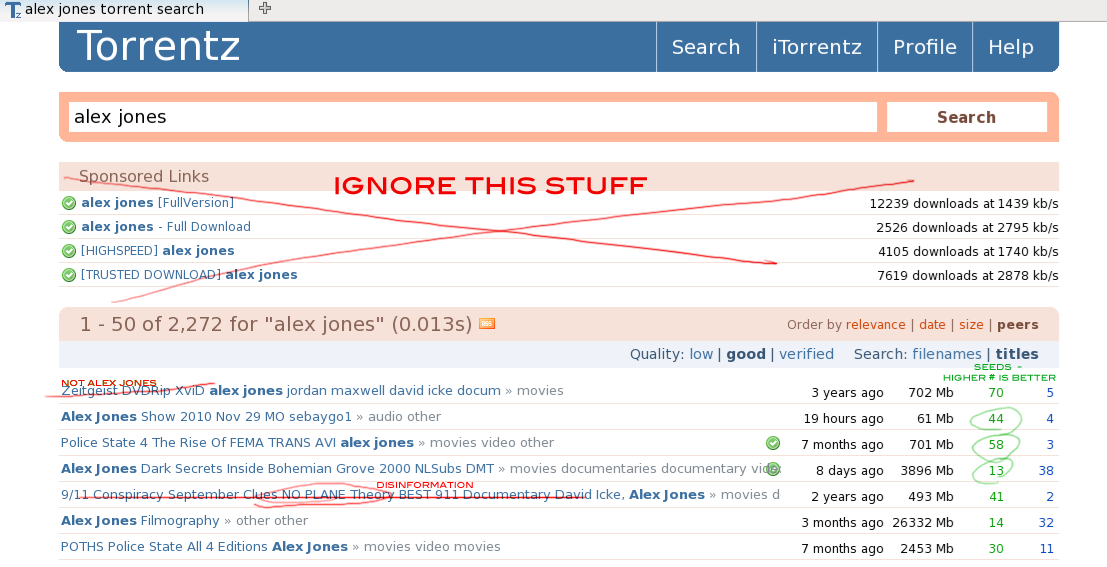 There are other social web video sites like Liveleak.com, vimeo.com, Metacafe.com, Break.com etc to upload vids.  We should definitely diversify our uploading efforts.   I'm getting pretty sick of copyright violation takedowns from YouTube in my old posts and having to find other copies.
What the feds and spooks don't seem to realize is that for every video they take down, 10 more are going to pop up.   This whack-a-mole approach just makes their problem (us) worse as censorship makes people more curious and validates everything we're doing.
TheAlexJonesChannel on YouTube.  – People should get in the habit of saving videos so they can quickly be re-uploaded, hopefully in a more distributed fashion next time.
Leave a Reply
You must be logged in to post a comment.
---